The Magic Sketchbook — eight episode of the fifth season animated series Pororo The Little Penguin.
Pororo went to Tong-Tong's house to borrow a storybook, but instead he took Tong-Tong's magic sketchbook by mistake. After knowing that the sketchbook is magical, Pororo uses it to win a sled race, and catch a big fish. However, Crong wants to go the bathroom. At his home, he discovered the sketchbook and stays at home. He draws a shark on the same page Pororo draws him getting a big fish, and a gigantic watermelon. Luckily, Tong-Tong comes to save them from the shark. In the end, Pororo returns the sketchbook to Tong-Tong. When Tong-Tong opens the sketchbook, he discovers a picture of Pororo and his friends playing together.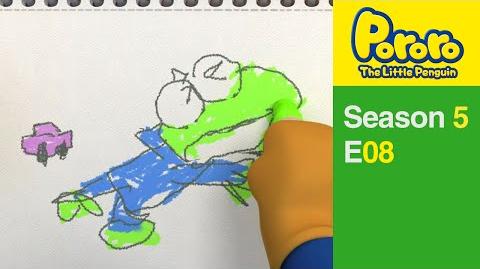 Ad blocker interference detected!
Wikia is a free-to-use site that makes money from advertising. We have a modified experience for viewers using ad blockers

Wikia is not accessible if you've made further modifications. Remove the custom ad blocker rule(s) and the page will load as expected.