Pororo's Special Present — nineteenth episode of the fifth season animated series Pororo the Little Penguin.
Crong's birthday is quickly approaching. Compared to all the great birthday presents his friends are preparing, Pororo is having difficulty coming up with a good idea until Crong said that he wants a genie when Pororo read a book for Crong. However, Crong used Pororo too much so that Pororo becomes unhappy. Pororo goes out because he's upset. When Crong reads Pororo's card, Crong feels sad and cleans the house for Pororo. Pororo is still unhappy, so Crong shows his drawing to Pororo, then Pororo and Crong becomes happy again.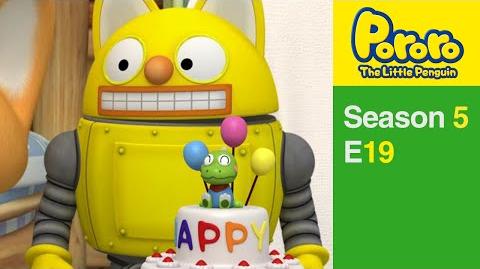 Ad blocker interference detected!
Wikia is a free-to-use site that makes money from advertising. We have a modified experience for viewers using ad blockers

Wikia is not accessible if you've made further modifications. Remove the custom ad blocker rule(s) and the page will load as expected.