Pororo's in Danger — eight episode of the fourth season animated series Pororo the Little Penguin.
Pororo decides to go up to the mountains alone to go snowboarding. However, when the weather suddenly goes bad, he leaves early and goes to Poby's house. Pororo saw Harry, Poby and Petty playing pile of the blocks. In the meantime, Crong sees that the weather has turned bad and thinks that Pororo is in danger. Crong calls Tu-tu, Rody and Eddy, and the three of them set out to rescue Pororo. Crong and his friends find themselves in trouble when the weather gets worse. Pororo finds out that his friends are in danger because of him. The weather got better again. After they finished playing pile the blocks, Poby sneezed all over the pile. He apologizes to his friends. Petty gets hungry. She asks anyone else hungry. Poby tells them that Loopy invited some sandwiches. He thinks the weather is bad. Harry checks the weather. He thinks it stopped snowing. Pororo, Poby, Harry and Petty went to Loopy's house. Rody goes to Poby's house looking for Poby and Harry. But they are not here. Pororo Poby Harry and Petty stopped at Loopy's house. Pororo calls Loopy. Loopy sees them. She's exited that they all come. After they finished, Poby thinks Loopy's cooking is the best. They went to the play ground. Rody goes to Petty's house looking for Petty. But she's not here. He goes to Loopy's house. He tells the bad news that Pororo's in danger. But Pororo is next to Rody. He tells that Eddy and Crong have gone to rescue him. Pororo and Rody went to the mountains. They saw Eddy, Crong and Tu-tu. Rody rescues them. Eddy and Crong are happy that Pororo is back. Eddy tells about the avalanche. Pororo tells them that he came right back down. Crong tells him where he's at. Pororo thinks that where he's at. He tells them he was at Poby's play. Eddy and Crong were surprised. They were mad at Pororo because he was having fun. Pororo runs away.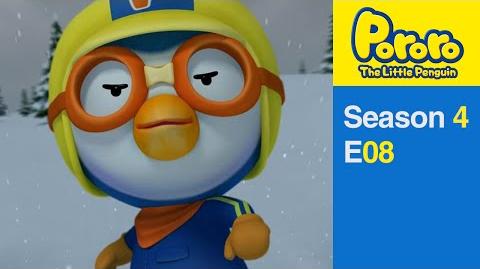 Ad blocker interference detected!
Wikia is a free-to-use site that makes money from advertising. We have a modified experience for viewers using ad blockers

Wikia is not accessible if you've made further modifications. Remove the custom ad blocker rule(s) and the page will load as expected.