Poby, Be Nimble — ninth episode of the fourth season animated series Pororo the Little Penguin.
Everyone is together enjoying their lunch. Poby, who was carrying a lot of plates, slips and falls after stepping on a sauce container. The ever so quick Petty jumps in and swiftly clears the broken plates. Seeing how everyone is applauding Petty for her swiftness, Poby starts to wish he was quick too. Harry realizes how Poby is feeling, and offers to help Poby by training him. However, the training isn't going so well. Instead of catching the balls during training, Poby just ends up getting hit by them. Harry starts to think that the secret to Petty's quickness is somewhere in Petty's house. Harry instructs Poby to imitate everything Petty is doing. Will Harry's plan for Poby be a success?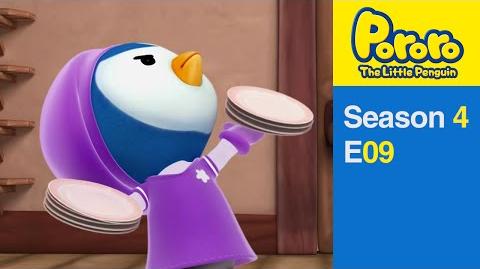 Ad blocker interference detected!
Wikia is a free-to-use site that makes money from advertising. We have a modified experience for viewers using ad blockers

Wikia is not accessible if you've made further modifications. Remove the custom ad blocker rule(s) and the page will load as expected.