Playful Nyao — twenty-third episode of the third season animated series Pororo The Little Penguin.
Today everyone is going to Tong-Tong's house on Eddy's hot air balloon. At that time Tong-Tong is heading out to find a material to use for his magic wand to turn his cat doll Nyao into a tiger. Wall clock and Nyao are left alone in Tong-Tong's house. They end up chasing each other when Pororo and friends arrive at Tong-Tong's house. Nyao and Wall clock pretend to be a doll and sit still. Petty picks up Nyao and says that it is a pretty looking doll. Nyao falls in love with Petty and tries to follow her home without Tong-Tong knowing... How will Nyao do that?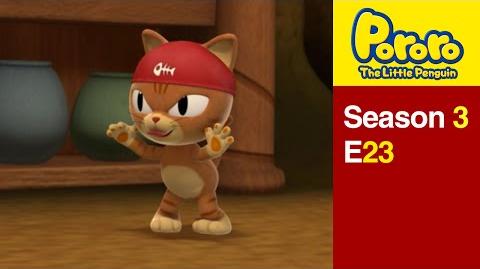 Ad blocker interference detected!
Wikia is a free-to-use site that makes money from advertising. We have a modified experience for viewers using ad blockers

Wikia is not accessible if you've made further modifications. Remove the custom ad blocker rule(s) and the page will load as expected.