Hello, Friends — first episode of the second season animated series Pororo the Little Penguin.
One shiny day in the Porong Porong forest, Pororo and friends were playing hide-and-seek. Pororo was hiding when Loopy was looking for her hidden friends. But instead of Loopy, a new friend named Petty found Pororo in his hiding place. Pororo introduce Petty to all of his friends, and everyone greeted sweet Petty with joy. Everyone is shy of Petty. Pororo asks her what brings her in town. She tells him that she is looking for a place to move here. Until, her stomach rumbles and Loopy invites her dinner. So, Everybody joins them.
Main characters who debut in the episode: Petty.
Is the first Season 2 episode.
Poby has dark blue overalls for the only season.
Loopy has a pink bow for first time.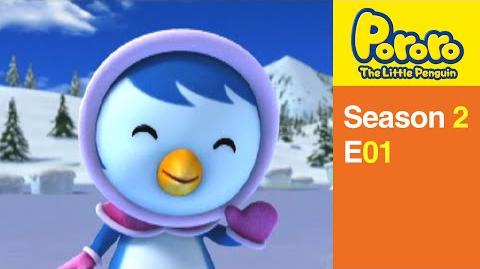 Ad blocker interference detected!
Wikia is a free-to-use site that makes money from advertising. We have a modified experience for viewers using ad blockers

Wikia is not accessible if you've made further modifications. Remove the custom ad blocker rule(s) and the page will load as expected.