Get Well Soon, Loopy
— thirteenth episode of the fifth season animated series
Pororo The Little Penguin
.
Loopy has caught a cold. She can't taste anything so she's unable to cook. The friends tell Loopy to stay home and rest because they want her to get well soon. Then, the friends get hungry. So they went to Poby's house to cook some fish dish, but, it tastes weird. But Loopy, unaware of their intentions, thinks that they are leaving her out and feels sad. Contrary to Loopy's imagination, everyone is so worried about her that they can't play or eat properly. So they decide to climb the mountain to find herbs for Loopy's cold. Feeling left out, Loopy heads toward Tong-Tong's house in order to cure her cold. Just then, Pororo and his friends went to find the plant called The Earth. Crong finds it and he was a genius. The friends saw Loopy faint and the friends to her back to Loopy's house. Back home, Petty makes tea to make Loopy better. It tastes bitter. Loopy's cold is gone, So she bakes pie for them. Then, the friends all caught Loopy's cold. The friends went to Rest.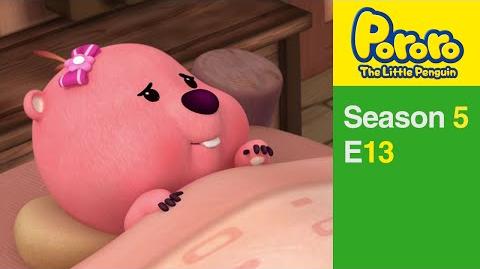 Ad blocker interference detected!
Wikia is a free-to-use site that makes money from advertising. We have a modified experience for viewers using ad blockers

Wikia is not accessible if you've made further modifications. Remove the custom ad blocker rule(s) and the page will load as expected.