Crony goes number 2 — nineteenth episode of the fourth season animated series Pororo the Little Penguin.
Crong solo come carne. En la parte superior el no caca cuando su cuerpo le dice que por lo tanto Crong se convierte en estrenimiento. Crong trata de ir bano to do his business many times, but nothing happens. His stomach feels even worse while he's jumping on Eddy's trampoline, but Crong doesn't show his discomfort in front of his friends. Crong ends up going on a field trip with his friends, but he doesn't enjoy the field trip at all. During the trip, Crong accidentally toots in front of his friends! Crong rushes to the nearest bathroom, but he still can't poop. Feeling helpless, Crong starts to cry. Suddenly, a poop fairy appears and explains to Crong why he hasn't been able to poop. Will Crong eat his veggies so he can be able to poop in this episode?
Crong Goes Number Two is the original title for this episode. The title is changed to Crong's Stomach Pain for unknown reasons.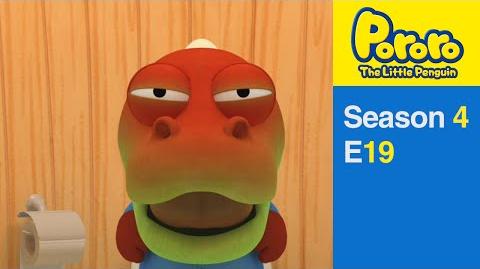 Ad blocker interference detected!
Wikia is a free-to-use site that makes money from advertising. We have a modified experience for viewers using ad blockers

Wikia is not accessible if you've made further modifications. Remove the custom ad blocker rule(s) and the page will load as expected.