Amazing Magic Wand — twenty-ninth episode of the third season animated series Pororo The Little Penguin.
Pororo and Crong come to Tong-Tong's house while Tong-Tong is out. They wait for Tong-Tong and fall asleep. Zzzz~zzz~ Because of Pororo and Crong's snoring, Clock and Nyao ask the magic wand to stop the noisy snore. Pororo and Crong end up being chased by the angry magic wand. What will happen to them?
It is actually strange that Nyao is still in Tong-Tong's house in this episode because Nyao now live at Petty's house.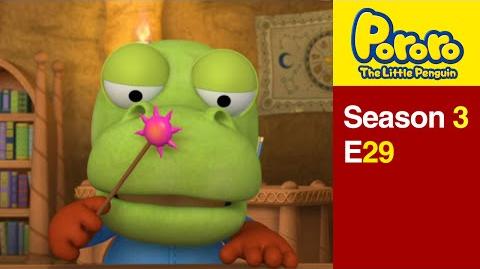 Ad blocker interference detected!
Wikia is a free-to-use site that makes money from advertising. We have a modified experience for viewers using ad blockers

Wikia is not accessible if you've made further modifications. Remove the custom ad blocker rule(s) and the page will load as expected.